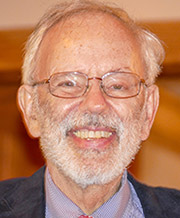 Richard D. Greenfield (Counsel to the Firm)
Phone:
(917) 495-4446
Email:
vCard:
Download
Richard, rated "AV Preeminent" by Martindale-Hubbell, has concentrated his practice in complex financial litigation, particularly in the areas of corporate governance, banking, consumer rights and shareholder litigation.

He founded (and was Senior Partner) in a 48-lawyer, Pennsylvania-based law firm that concentrated its practice in such litigation and, thereafter, a 12-lawyer firm.

Richard has achieved national and international recognition for his achievements and, in particular, for wide-ranging litigation involving the operations of banks. Richard's litigation achievements have been profiled in the following media/manner: features on the British Broadcasting Corporation's Money Programme; American Broadcasting Company's Business World; a feature on litigation against banks for Radio New Zealand; front-page articles in The Wall Street Journal; a substantial article in The New York Times; a cover story in Banker's Monthly; and profile articles in Florida Trend, The American Lawyer, Philadelphia Business Journal, The Philadelphia Inquirer, Dagens Industri (Sweden's equivalent of The Wall Street Journal), American Banker, St. Petersburg Times, United States Banker, Ft. Lauderdale Sun-Sentinel and the Palm Beach Daily News.

He was selected by The National Law Journal as one of 50 lawyers under the age of 50 who achieved national recognition for their professional accomplishments and thereafter, as one of the nation's 100 most influential lawyers.

Richard has also served as a Director of Equimark Corporation, a $2.5 billion, New York Stock Exchange-listed bank holding company (prior to its acquisition), and two of its subsidiaries, Equibank (Delaware) N.A. and Liberty Savings Bank, based in Philadelphia.