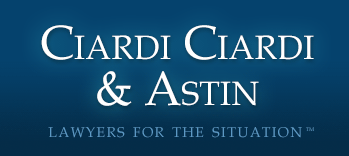 Representative Matters
The following are representative cases and matters in which Ciardi Ciardi & Astin and/or its attorneys have or currently represent parties in interest:


ACT Electronics, Inc.
Aleris, Inc.
Alliance Bancorp
American Business Financial Services, Inc
American LaFrance, LLC
Amp'd Mobile, Inc.
Aphton Corporation
Arbios Systems, Inc.
Argo Tracker, Inc.
Atlantic Communities
Bama Rags, LLC (an entity related to the Dave Matthews Band)
Berks Behavioral Health
Blue Dot Services, LLC
Blue Hippo
BSCV, Inc. (f/k/a Boscov's, Inc.),

et al.

Buffets Holdings, Inc.
Cadence Innovation LLC
Celeren Corporation
CJF Holdings
Commonwealth of Pennsylvania, Department of Education
Corecare Behavioral Healthcare
Custom Food Products, Inc.
DayJet Corporation
Discovery Zone
Dura Automotive Systems, Inc.
Edison Brothers
e.Spire Communications, Inc.
Fedders North America, Inc.
Flying J Inc.,

et al.

Forward Foods LLC
FRD Acquisition Group
Friedman's Inc
Fruit of the Loom
G.I. Joe's, Inc.
Goody's Family Clothing, Inc.
Gorges Holding Corporation
Gottschalks Inc.
Great American & Pacific Tea Co.
Gulf Corporation, Inc.
GWLS Holdings, Inc.
Hispanic Yellow Pages, Inc.
Hoop Holdings, LLC
Hospital Partners of America, Inc
Hyperfeed Technologies, Inc.
International Telephone & Satellite Corp.
JRA Furniture Industries, LLC
Kessler Memorial Hospital
Linens Holding Co.
Marcal Paper Mills, Inc.
Matlack, Inc.
Marty's Shoes
Mervyn's Holdings, LLC
Mission Critical Enterprises, Inc.
Monaco Coach Corporation
Motor Coach Industries International, Inc.
Murphy Marine Services (MUMA)
National Waste Services of VA, Inc
NationsRent
Northwestern Institute
Nuclear Imaging Systems, Inc.
NWL Holdings, Inc.
OCB Leasing Company, LLC
Old Ladder Co. (DE), Inc.
Onvance
Penn Specialty Chemicals, Inc.
Rate My Mortgage, Inc.
Retail Pro, Inc.,

et al.

River Oaks Holdings, Inc.
Saint Anne's Club, LLC
SCH Corp.
SemCrude, L.P.
Smith Corona
Smurfit Stone Container Corporation
Starband Communications
Stratford Nursing and Convalescent Center
Student Finance Corporation
Suffolk LLC
Super American Tissue, Inc.
Tennessee Football, Inc. (d/b/a Tennessee Titans)
The Creek Course, LLC
Thompson Products, Inc.
Three A's Holdings, L.L.C.
Transit Television Network,
Trident, LLC
Trump Casino
TSIC, Inc.
TWTR, Inc.,

et al.

Uniroyal Technology Corporation
VeraSun Energy Corp,

et al.

Virtual Fonlink, Inc.
Wave Wireless Corporation
WCI Communities, Inc.
Wiley Cork
Winstar Communications
World Health Alternatives, Inc